Raw Travel has deep connections in Ukraine, having filmed three episodes in Lviv and Kyiv in 2019.
Anastasia, our Ukrainian videographer, and her family are two times refugees, having already fled Donbas for Kyiv, and she and her younger brother are now separated from her parents, who remained behind.
In addition to Anastasia, we have several friends from Ukraine who are either exiled refugees or are serving their country fighting. Ukrainians aren't the only ones drastically affected by this war.
Our musician friends from Russia who have helped craft music for Raw Travel are also refugees because they cannot return to Russia for fear of arrest. They must also find a new country to call home.
We want to help Ukraine heal. We will be traveling to the Ukrainian border in June to film an episode focusing on giving back. The money raised on our Go Fund Me Page "Raw Travel Helps Ukraine" will focus on grassroots giveback segments in the show, which we hope will represent the Raw Travel ethos of socially responsible travel.
One of the organizations we have identified to work with is called Keep Kids Learning – run by Joseph Nichols, a US Citizen who has been working on engineering projects in Ukraine for eight years and teaching English. You can find out more about their fundraising campaign here – Keep Kids Learning
There are other needs and organizations as well which we'll be showcasing during our filming of course. War is, of course, unpredictable but you can be assured that if we cannot film and use the money outlined above for reasons beyond our control, we will proceed to donate to a legitimate charity that we feel is best helping Ukraine.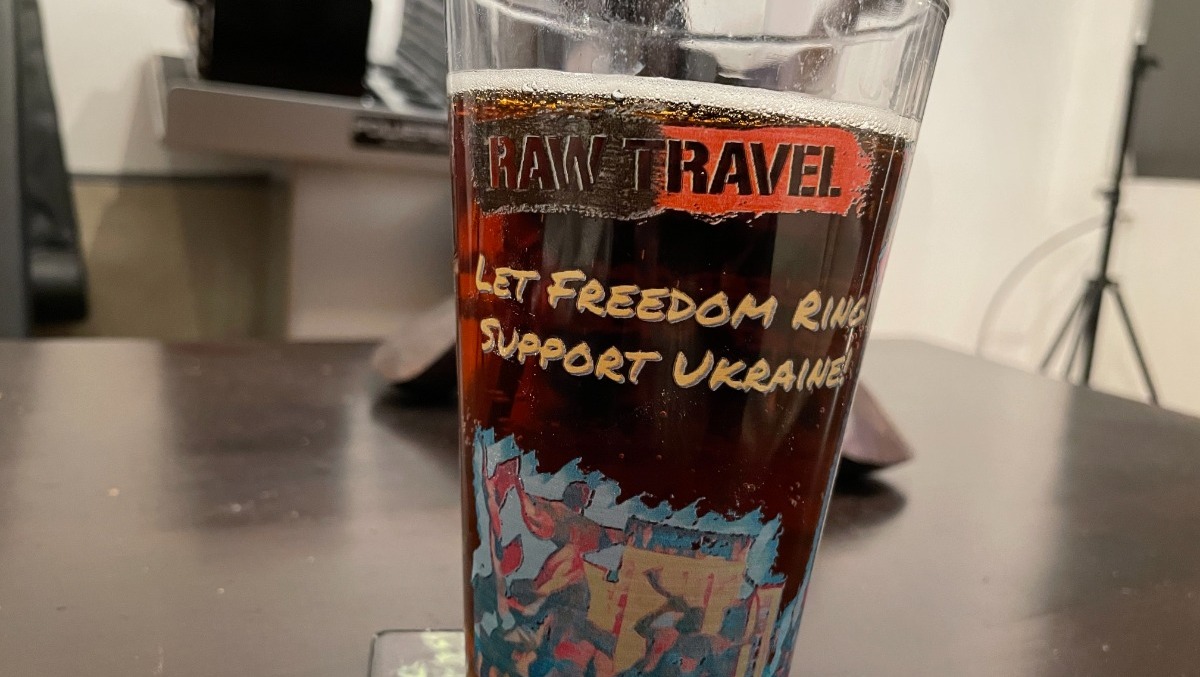 PINT GLASS – All donations over $50 are eligible for our Pint Glass or Coffee Mug with our exclusive "Let Freedom Ring for Ukraine" artwork, based on a photograph by producer Robert G. Rose at Kyiv's Independence Square in August of 2019.
You may also buy directly at Raw Travel Merch and approximately $10 of each item (shirt, pint glasses, coffee mugs) will go towards fundraising.
If you donate through our Go Fund Me and would like to take advantage of the merchandise on offer, please message us directly there with your shipping address and we'll order it for you.
You can also follow our progress by following us on Social Media @RawTravelTV at Facebook Twitter Instagram or YouTube .
Thank you for your support. Stay tuned here and to social media for progress updates.
Unfortunately, regardless of when this war finally ends, there will likely be a need for humanitarian relief for some time to come. Please stay tuned to this blog and our social media posts for details.
God bless you and God bless the people of Ukraine.
4/20/22 – UPDATE FROM CARE4UKRAINE:
This update is from Joseph from Care4Ukraine (Formerly Keep Kids Learning). As the situation on the ground is changing dramatically, so is the mission. He's now switching to a more urgent need for medical supplies. We are hoping to meet Joseph in Chicago at the end of the month and roll with him in late May/early June in Poland/Ukraine as he continues his excellent work. Please stay tuned and please help him if you can. Below is slightly edited for brevity and clarity only – from Joseph sent the day Lviv had been bombed:
FROM JOSEPH – I am sure you know that Lviv was more directly impacted with a missile attack today. Normal kids "classes" will be cancelled today. A space was found in Ivano-Frankivsk and one in Uzhgorod along with a number of volunteer teachers.

There was a bit of growing complacency in the IDP population as the number of refugees returning from Poland has been increasing. The number of people returning to Kyiv and Chernihiv has been growing as well. This reverse exodus has been attributed to a sense of security, though regional administrations have been urging people not to return.

Refugees in Poland are having to deal with the sticker shock of EU prices, lack of housing, and the expected refugee fatigue that has begun to surface.

In the IDP population there are three camps that appear to have formed.
The first is comprised of those with above average resources (e.g., money, relatives with large homes, vacation homes) and freedom of movement.
Second, those that were able to secure housing early – but will soon have exhausted funds. The third group are those dependent on aid, charity or have become transient.
It is this third group for which we have most concern. The human-trafficking sharks are circling as well – very nasty people. Keeping an eye on the 15 – 17-year-old's is important.

Most are just families of women and children. Many have left older parents behind in the care of elder children. As always, these are just observations based on data that is at best….. fragmented.

As the Kids Learning Program develops, I am going back to my roots (medical equipment/healthcare facilities management) and getting aid delivered to more eastern regions. As previously mentioned, getting medical and communications equipment deployed is becoming a priority; as is medical supply deliveries.
I will arrive in Chicago on 30 April to assemble donations from various hospitals and public health services that are culling recently expired/ soon-to-be expired disposables, and basic equipment, for shipment to Ukraine via Poland.
GoFundMe: https://gofund.me/e1494ea8

Based on what I'm being told, we can expect some very rough months ahead for Ukraine, and these supplies need to be place.
UPDATE May 2, 2022 – ROB INTERVIEWS JOSEPH
Rob caught up with Joseph via zoom, while Joseph made a quick trip to Chicago to pick up some medical supplies to take back to Ukraine.
UPDATE 5/21/22 – Here's an update from Joseph of Keep the Kids Learning / Help 4 Ukraine in Lviv, Ukraine. Joseph is looking for school space and giving an update on how it's the economy that is hurting most in non-heavy day-to-day combat locales like Lviv, Ukraine. It's not just OUR grocery or gas bill that has gone up. Putin has singlehandedly wrecked the global economic recovery, and as usual, it's the poor or vulnerable that suffer most. You can bet your depleted 401K's last dollar that the world's richest man (Putin, not Musk) won't miss a meal. But good always prevails, IF we are willing, and we are aren't we? That's why we're heading to Ukraine next month to hook up with Joseph and show you firsthand the good people he and so many others like him are doing. Thank you for your continued support. Visit RawTravelGiveBack.com for more information and thank you for your continued support.
UPDATE 5/22/22 – July 2nd and 3rd, 2022 – Raw Travel Episode 913 – "Let Freedom Ring in Ukraine" will premiere in the USA. Here's a sneak peek.